Air Conditioning
Now You Can Rent Central Air Conditioners or Ductless Air Conditioners from Services.
Seasons Change, and Central Air Calls…
North Bay is known for cold winters, but we know it's not just the freezing extremes that can make you uncomfortable – the dog days of summer dog us all. If you're dreading the swelter of the summer, air conditioning should be in your future.
And with the ability to affordably rent one of Services' fantastic makes and models – both ductless air conditioners and central air conditioners – and the peace of mind that comes from the ease of air conditioner repair and maintenance, Services will have you sitting comfortably, no matter the heat outside.
For the best air conditioning in North Bay, Services has exactly what you need. We are trusted by the local community to bring the best services possible to your home.
The Best in Ductless Air Conditioners
If you don't currently have a duct system in your home, but you're tired of the inefficiency of a portable air conditioner – or you'd like to open the window that your rattling window air conditioner currently fills – why not look at ductless air conditioners? Services carries excellent ductless air conditioners from LG, offering a wide range of multi-zone and single-zone air conditioners with many different sizes to suit your homes' needs, as well as Continental Heating and Cooling, providing high-quality, Canadian-made ductless heating and cooling. We have you covered, whether you need a multi-zone system, designed to connect and operate four air conditioning units at once, or a single-zone system, with independent dehumidification, self-diagnostic controls, auto restart, and a sleep mode for energy efficiency – it even has a remote control!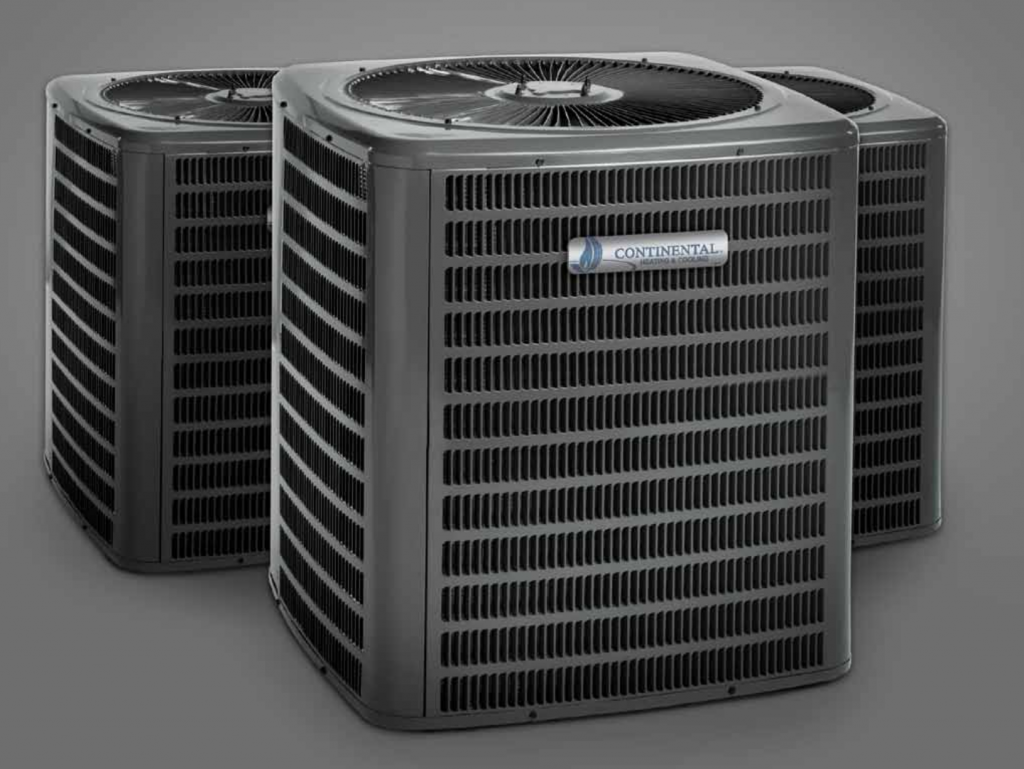 The Bliss, and Quiet, of Central Air Conditioning
For those blessed with the ductwork for central air conditioning, Services has you cooled and covered too. The best air conditioning model for you could be Payne* and their quiet air conditioners – as low as 73 decibels – as well as single-stage compressor operation and a focus on durability, corrosion-resistance, and resilience against weather and debris. Or it could be Goodman*, with its energy efficient compressors, factory installed liquid line filter drier, or one of their air conditioning models featuring ComfortAlert™ diagnostics, and ComfortBridge™ Technology – continuously monitoring the system performance for customized indoor air conditioning comfort.
Continental Heating and Cooling has their central air conditioner line up as well, both energy efficient and environmentally conscious. Whether you look to it for its durable and efficient modern fan blade style – as part of their WHISPER QUIET™ air conditioner operation – or their use of Chlorine-free R410A refrigerant, and less of it, thanks to the micro channel condenser coils. Even the high-quality Emerson EK filter drier, which extends the air conditioners' life and removes dirt and debris could spark your interest. So many features, and proudly Canadian to boot!
Looking for the Best Air Conditioner Solution?
Whichever model or make you prefer, Services will be there to help you select the best air conditioning choice for your home, offer free basic installment and fantastic repair and maintenance from an HVAC Technician. If there is an issue with your air conditioner, simply call our local North Bay number, and we'll have a local qualified HVAC Technician call you back within two hours to ascertain the issue. That's the Services' Pledge.

CALLANDER • ESPANOLA • MARTEN RIVER • MATTAWA • NORTH BAY • POWASSAN • SUNDRIDGE • WEST NIPISSING
HEAD OFFICE:  (705) 476-WARM(9276) • 74 Commerce Crescent, North Bay, ON P1A 0B4
ESPANOLA:  (705) 869-HOTT(4688)