Water heaters
Gas and Electric
Get Free Installation and Previous Tank Removal with Services – North Bay and surrounding area 
Water Heaters and Tankless Water Heaters for your Specific Needs.
A hot water heater is necessary in every home, but every family's needs are different. That's where Services can help.
Not only will Services analyze your needs in regards to capacity, cost and efficiency, but you can trust Services HVAC technicians to install the best model of water heater for your budget and household, with their commitment to quality and safety.
We work with only the best in water heater suppliers, focusing on Canadian-made products that offer the best for our customers, both commercial and residential. Services is the top choice for North Bay and surrounding area. Contact us to learn more.
Tankless Water Heaters
Space Efficient and On Demand
If you're looking to switch your hot water tank with an on-demand tankless water heater, then Services has the unit for you. Built with integrity by companies like Rinnai, the tankless water heaters are natural gas or propane, with a direct-spark electronic ignition – no standing pilot means energy savings. And that's not all, these tankless water heaters significantly cut energy use and the costs associated with it while heating only the amount of water your family needs, the instant they need it – no need to heat a full tank.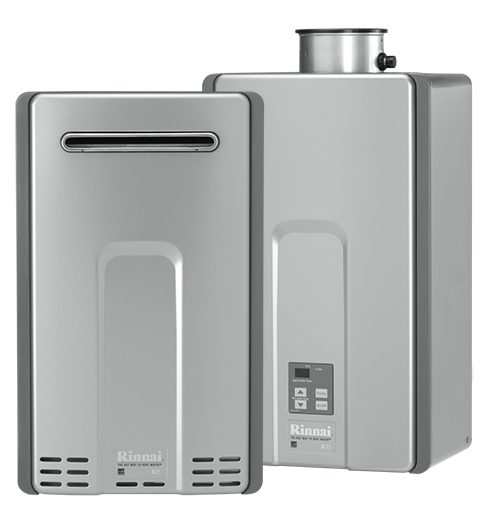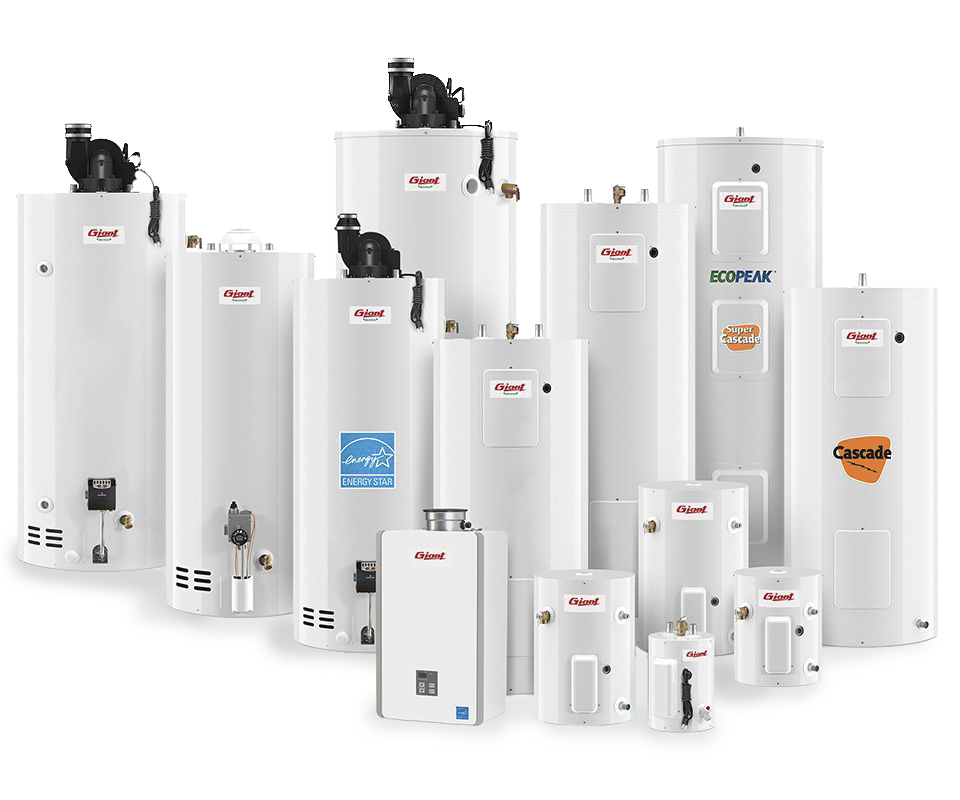 A Canadian Giant in Water Heaters
For Canadian quality that is tankless, or with a hot water tank, Services offers the line of products from Giant, with their reputation for manufacturing the best in water heaters. You can find the hot water tank size needed to suit your lifestyle – whether that is a family of two, or a family of five with a soaker tub – with a wide variety of venting options for their gas-fired water heaters. If you have a chimney, the Atmospheric Vent – with or without power dampener – is for you, featuring gas-fired water heaters equipped with eco-friendly burners (LOW NOx) for effective, pollution-free combustion. If not, you'll be suited to Power and Power Direct Vents, perfect for use with an exterior wall or through the roof. Services also offers Giant's line of tankless water heaters like their Comfort and Performance series.
Professionally Installed by our HVAC Technicians
Your water heater or tankless water heater will be installed by one of our local HVAC Technicians, specially trained and backed by Services – available to you by dialling only one phone number for every unexpected problem that could crop up, and it's a local North Bay number at that. You'll receive free basic installation from our HVAC Installers, we'll cover closing costs of your previous account up to $40, and we'll even get rid of your old unit for free.
And if you'd like a hot water tank replacement so you can benefit from the cost savings of a high-efficiency hot water heating system, but without the high initial investment, why not rent under Services affordable rates? Not only will you have the ability to save money and energy without the upfront cost, but repairs are a breeze. Simply call our North Bay headquarters and you will be contacted within two hours of first contact to assess your situation. That's Services.
Selecting the Right Tank for Your Home
When you're selecting a hot water tank, we'll help you make sure the water heater model you choose is adequate for the needs of your home and your family. Too small, and your hot water tank replacement might not have enough capacity. Too big, and you'll be paying for capacity you don't use. Have a look at the chart below to get an idea of a water heater that will suit your needs.
Home

Natural Gas Water Heater

Size Needs

Model

Size

1–2 people
40
151 litres (33.3 gal)
3–5 people
Model 50
190 litres (41.6 gal)
More than 5 people OR
Extra-large bathtub (soaker or whirlpool)
Model 60 OR
Model 75
227 litres (50 gal) OR
341 litres (62.5 gal)

Venting Needs

Venting Type

Details

Able to vent through an existing chimney
Conventional
Quiet
No blower motor


No electricity required

Located within 1.8 metres (6 feet) of exterior wall
Direct Vented
Quiet
No blower motor
No electricity required


Available on Model 50 only

Located up to 9.1 metres (30 feet) of exterior wall
Power Vented
Electric blower (some noise)


Electricity required (no hot water during a power outage)

CALLANDER • ESPANOLA • MARTEN RIVER • MATTAWA • NORTH BAY • POWASSAN • SUNDRIDGE • WEST NIPISSING
HEAD OFFICE:  (705) 476-WARM(9276) • 74 Commerce Crescent, North Bay, ON P1A 0B4
ESPANOLA:  (705) 869-HOTT(4688)